Data Discovery
About
The Paris Astronomical Data Centre Legacy Portal provides an easy way to access a sample of Astronomical VO data available at Paris Observatory. With only one query you can access to SIA, SSA, Cone Search and TAP resources.
Practical use
1. Fill query form
You must fill the query form with valid values. The basic query form allows you to query on position or target name. If you want to fill more query parameters click on the advanced link.
2. Discover resources
Once your query is submitted you can discover astronomical resources of PADC. The resources containing data that match your query are flagged with a green thick.
3. Get data
You can get data in two formats: VOTABLE and HTML. To get them click on the corresponding link. With the HTML view you can send data directly to VO applications by using SAMP.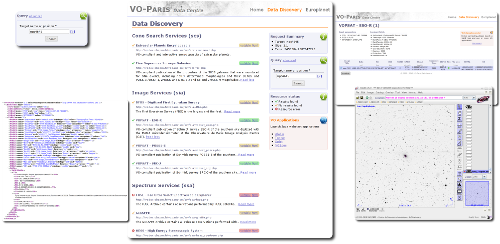 Paris Astronomical Data Centre Portal
Help
Target name

Enter the name of an astronomical object including Solar System object.

Position

Enter the position of the region of interest, expressed as the right ascension and declinaison of the field center.

Examples

9.911337 +16.38380556
9:54:40.8 +16:23:1.7

Note on basic query form

The angular size of the region of interest is set to 1°. To set your own value, please use the advanced query form.
Help
Size

The angular size of the region given in decimal degrees. The region may be specified using either one or two values. If only one value is given it applies to both coordinate axes. If two values are given the first value is the angular width in degrees of the right-ascension axis of the region, and the second value is the angular width in degrees of the declination axis.

Examples
Help
Time

Enter the epoch. You can enter the epoch in the ISO-8601, JD or MJD formats.

Examples